Creative Hangouts 2023 Series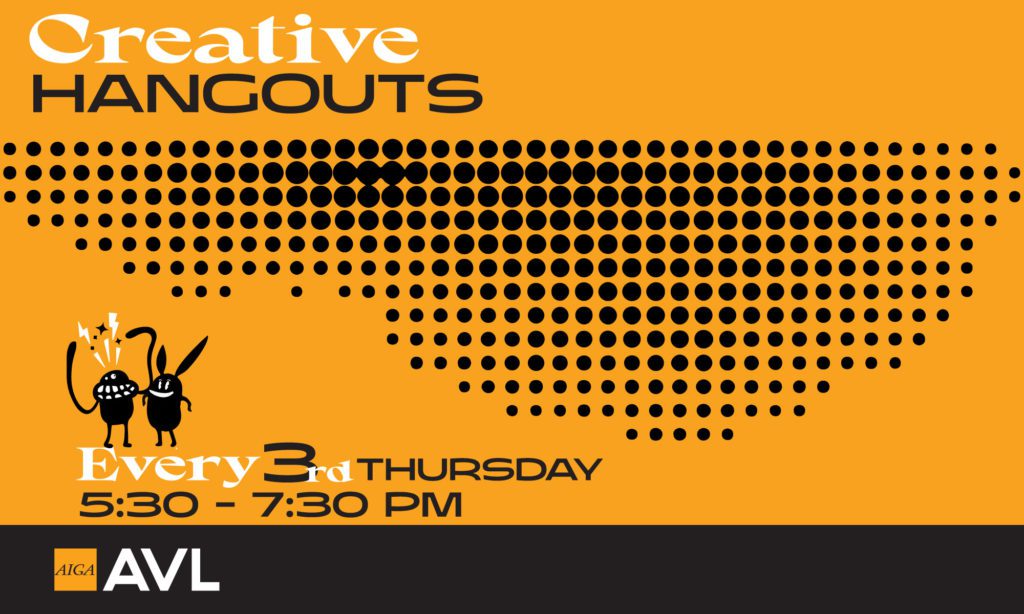 Join us every 3rd Thursday for our monthly social and creative panel discussion! Grab a drink, get to know community members, and hear behind-the-scenes insights and stories from our members. Mingling starts at 5:30pm. Panel discussions start at 6:30pm. This will be a fun, no-stress, space for creatives (members and non-members) to meet monthly. No registration required. Look for the AIGA sign, grab a cold one, and meet a friendly face! ⁠
AIGA Asheville members are invited to apply to participate as panelists. Check out the application form to pick topics or suggest new ones.
2023 SCHEDULE:
Join us on the following dates. More will be info will be posted as the closer to the events.
January 19, 2023
Panel topic: Things you wish you knew before freelancing
Panelists: Manny Figaro, Renee Hartwick, and Lex Turnbull
---
February 16
Panel Topic: Work-life balance
Panelists: Lesley King, Caroline Sanney, Ailsa Bennett
What does work-life balance look like and how can we better achieve it? It can be challenging to try and capture this elusive state. One that requires boundaries and daily techniques both with ourselves and our clients. Together with our panelists, we'll explore how we define and attempt to create work life balance.
---
March 16
Panel topic: Producing work when feeling uninspired
Panelists: TBD
---
See Upcoming Events for more details, including location and drinks sponsor!